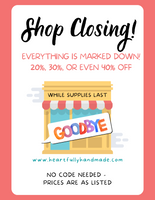 Heartfully Handmade is closing.
The Heartfully Handmade shop is transitioning to a close.
Everything in the shop is marked down 20-40% off retail price, and additional markdowns will be taken until everything is gone (so keep checking back!).
No code needed - prices are as listed.
------------------------------------------------------------------------
Inventory quantities are NOT guaranteed! ....it's just not possible to be perfect. You will be REFUNDED for any purchase amount that cannot be filled and will only be charged for the exact quantity of yardage/product that you receive.
------------------------------------------------------------------------
***Orders will process as quickly as possible, but please allow some extra time and grace for shipping (current processing time is 3 business days).***
Gift cards will be honored until the shop closing date (which is undecided at this time).
Thanks for being here and for helping a small business adventure... your support has been so appreciated!!
xoxo
Kristen @heartfullyhandmade
Forgotten Memories by Minki Kim for Riley Blake
Don't Miss these fun goodies!!
StoryTeller Plaids - New from Art Gallery & Maureen Cracknell
Quilt Patterns You Don't want to miss!
Tula Pink Webbing to Up your bag-making game!
We love cross stitch, yes we do!
Cards for Quilters and Makers
Fun and Quick Patterns by Villa Rosa Designs
It's always fun to be in a sewing mood!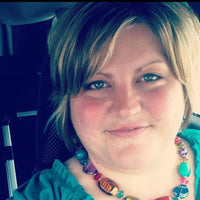 Kristen Olson
Hi there! My name is Kristen, and I am the maker behind Heartfully Handmade.
I fell in love with fabric in 2014, and though I didn't really know how to sew, I passionately collected fabric and studied lots of video tutorials on how to quilt. Eventually I worked up the courage to turn on (and use!) my sewing machine, and I very quickly fell in love with everything about quilting. 
Quilting is my creative outlet, my stress relief, and one of the biggest joys of my life. Whether the project is a big quilt, a new pattern, a fun bag, or a quick key fob, I'm having a great time if I'm spending time sewing!
I live in Wisconsin with my husband and our son, and if I'm not with them or in my sewing room, I'm probably teaching Psychology at a technical college.
You can find me on Instagram (@heartfullyhandmade) and on Pinterest (Kristen Olson - Heartfully Handmade).