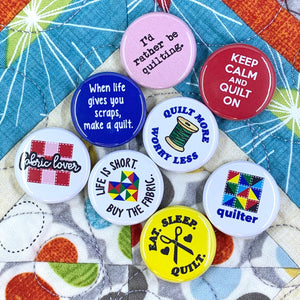 Set includes eight 1-inch buttons or magnets. They are about the size of an American quarter.
Pin will arrive grouped in cello wrap. Magnets arrive on a 3- by 4-inch galvanized metal backing in a cello sleeve.
Featured designs are: Fabric lover Quilter Life is short. Buy the fabric. I'd rather be quilting. Keep calm and quilt on Quilt more, worry less Eat. Sleep. Quilt. When life gives you scraps, make a quilt.
By Ruth & Dottie